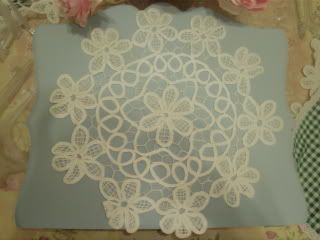 I've just recovered from a bad flu... naughty flu attack me last Tuesday... I was so down.. I can't do anything, took my pills and went for deep sleep... Alhamdulillah I'm back on feet...
I've just clean up my photobucket and here I found the doily flew from Bandung... A lovely lady from Sabah, sent me these beautiful doilies....Thanks Shaliza... sweet lady...lain kali nak pesan lagi.. doily from Istanbul ke... Korea ke... mana-manalah...
have you got one at home... a must .. A MUST HAVE...
Doily or Doyley or Doyly ...where most of us call it doily... a small ornamental mat , usually of embroidery or lace or linen. A small table napkin can also be call doily.

It is named after a London draper of late 17th century - 1670-80

I like to use it to enhance my ceramic collections, dolls, ducks, etc..etc..etc...

Nowadays we can also use the paper doily ... it is very much indeed complete D' decor of a home...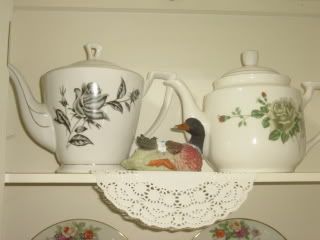 A romantic touch in each home...