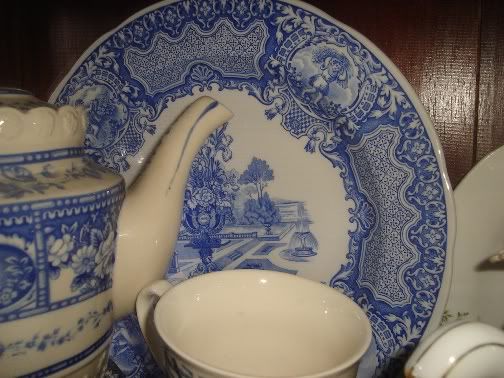 It was a gorgeous day for a ride! I was walking to 'D Curve' on Monday when I got a call from this lovely lady...Kak Azah... I cannot believe what I heard.. am I just dreaming... I have wanted to travel there for a decade... I even tried to persuade my hubby... but No Luck... well now the luck is on my side.. we have to believe it that things comes around and goes around with God's will... thank you so much for taking the effort to drag these beutiful Spode for me.. I can't thank you enough.. thank you again Kak Azah... you really make my day..
That night I went to kak Azah's cottage to collect these beauties... kak Azah is such a lovely sweet lady... we talked, I really enjoy her company and did not realise that time flies so fast... there's so much things to share.. things that I learned just by looking around her cottage... Her simple cottage open up my mind that you don't have to be surrounded with luxury items hanging here and there.. the family makes it perfect... I wish I have all that... InsyaAllah...

Thank you again, Kak Azah! We need to get together really soon ! Again!

My day continues with more surprises... These gifts are from my boss.. she just came back from Oman.. look at the desert sand, it has different colors and we can move it too... Isn't it a beauty of God's creation...
My day doesn't stop there... On that evening I dragged my hubby for a small hunting and got some of these.. even tough it is not that big hunting as other bloggers had... but it's something that I would like to share with you... my hubby said that it is an advance birthday gift for me since it's just around the corner... Love you honey... and Today is my birthday.. wish me all the luck I can get
..wealthy..healthy..beauty....